Caproasia.com | The leading source of data, research, information & resource for financial professionals, institutional investors, professional investors and private investors (UHNWs, & HNWs). Covering capital markets, investments and private wealth in Asia. How do you invest $3 million to $300 million? How do you manage $20 million to $3 billion of assets? This site is for accredited investors, professional investors, investment managers and financial professionals only. You should have assets around $3 million to $300 million or managing $20 million to $3 billion.
---
Special Coverage: The Family Office Series 2020
The future of Family Office in Asia | 16th Nov – 25th Dec 2020
2,800 billionaires, 290,000 UHNWs, 15,000 family offices in the world. How many are in Asia? How do they manage their assets?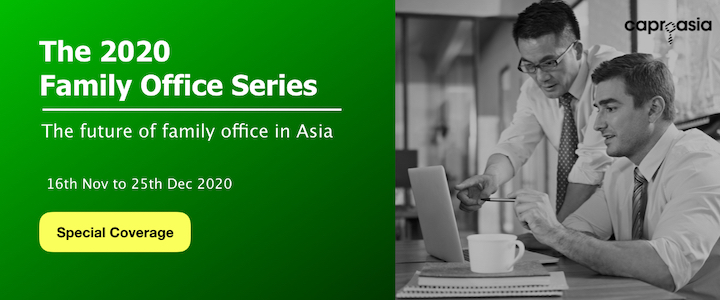 The 2020 Family Office Series is a 6 weeks special coverage on family office and multi-family office in Asia. Hear from leading family office experts, institutes, private banks, family offices and many more.
Learn about family office, changes family office are facing, how to setup a family office or join a multi-family office. Find out how the biggest wealth transfer is taking shape, how managing traditional wealth and new wealth is different and many more.
Join us in an exciting 6 weeks coverage at the 2020 Family Office Series.
View the coverage at
Find $3 million to $300 million financial services at TFC | The Financial Centre. Find Private Banks, Family Office Services, Hedge Funds and more.
---
Learn More
Where do we find family office services in Asia?
Setup a family office or Join a multi-family office?
How much assets do we need to set up a family office?
How should we run our family office?
How can we transform our family office?
How can we simplify our family office?
I trust no one, what should I do?
We are facing lawsuits, our family is breaking up?
Our business & investments are failing, what should we do?
Will financial centres be safe in the next 10 years?
How will tax and policy changes impact us?
For interviews, contributions, partnerships, advertisements and sponsorships, email us at mail@caproasia.com or contact michael@caproasia.com or douglas@caproasia.com
Data Release
Caproasia Platforms:
Caproasia Events & Coverage:
---
Caproasia.com | The leading financial website for financial professionals, professional investors and HNW investors. Covering capital markets, investments and private wealth in Asia. How do you invest $3 million to $300 million? How do you manage $20 million to $3 billion of assets? Quicklinks: Caproasia Access | TFC | Caproasia | Jobs
Join 14,000+ leading financial professionals and professional investors in Asia. Stay ahead of your peers & competition. For press release, email to press@caproasia.com For editorial, media kit, listing on TFC, events, seminars or research & data services, email to mail@caproasia.com
---