Family Office & Private Wealth Management Forum 2021
July 19

-

July 21

$3495
Family Office & Private Wealth Management Forum 2021



19th – 21st July 2021 | Newport Marriott, Rhode Island (United States)

Overview
As Opal Financial Group's flagship event, the Family Office & Private Wealth Management Forum has become Opal's largest & most renowned family office event in the industry. Known for its rich history and magnificent mansions, Newport, RI, attracts thousands of delegates each year. America and the world has dealt with a Global Pandemic over the last 18 months leading to uncertainty, turbulence and unease in our own families.
During that time, Opal Group adapted to continue to bring education, networking, and expert discussions to the industry by transitioning our events to an interactive virtual platform. Now that the light is finally shining, the voyage can begin with Newport's annual Regatta Cup race, giving delegates an opportunity to find their inner competitor and race across the harbor.
Over the course of three days, family offices, private investors, and investment managers navigate their way through the choppy waters of the past pandemic and recession, while continuing to explore the best ways to map out their portfolios. With hundreds of delegates, there is always an opportunity to meet potential clients.
Discussions will cover a wide variety of investment topics including direct investing, impact investing, private debt, innovative technology, non-correlated assets, and many more. Come join us this July– the forecast calls for fun, networking, all with safety & social-distancing in mind and favorable prospects for preserving your family's wealth.
Conference Format
This conference will exclusively feature dialogue driven panel discussions led by consultants and family offices. Power Point presentations are prohibited during panels. *Only Standalone Speakers will be allowed to use PowerPoints, but cannot pitch products or advertise.*
For additional information, please email info@opalgroup.net for a copy of our Preliminary Agenda.
For more information: Family Office & Private Wealth Management Forum 2021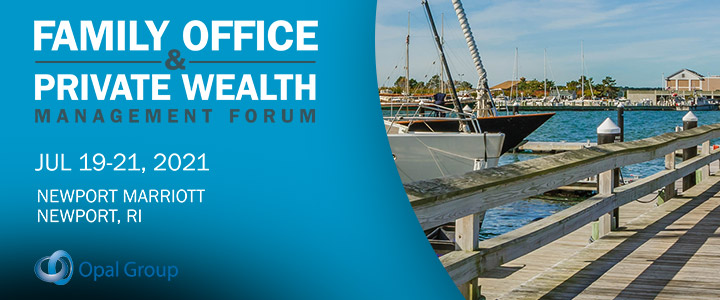 Caproasia users have access to exclusive discount.  For more information, please contact your regional representative.